As this year's NBA conference finals take place with the Boston Celtics facing the Miami Heat in the Eastern Conference and the Denver Nuggets facing the Los Angeles Lakers in the West, we take a look back at the most impressive outings in this round, going back to the days of Kareem Abdul-Jabbar up through last year's performances from Jimmy Butler and Luka Doncic, with the help of Basketball-Reference.com's game score archive.
Game score, pioneered by John Hollinger, is a measure of a player's single-game value, factoring in all elements of the box score from scoring efficiency and playmaking to rebounding and defensive impact. Although imperfect, it quickly captures a player's baseline performance and allows us to compare conference finals games back to 1978 — the first year the NBA tracked individual turnovers.
Over that span of 45 years of conference finals, we've highlighted the top 25 individual performances, 20 of which came in victories for their team. How did each player succeed and what did their heroics mean for the series and the NBA playoffs as a whole? Let's take a closer look at the top conference finals performances, highlighted by four from LeBron James and three from Michael Jordan. — Kevin Pelton
1. Charles Barkley, Phoenix Suns | Game score: 47.1
1993 West finals: Game 5 vs. Seattle SuperSonics
With Phoenix and Seattle tied at two games apiece, the Suns — who won a league-leading 62 games and featured the NBA's Most Valuable Player in Barkley — came home for a pivotal Game 5. What did Barkley do? He only put up a 43-point, 15-rebound, 10-assist triple-double in 47 minutes to power Phoenix to a 120-114 win, one of two massive games Barkley had to lead the Suns to the lone Finals appearance of his Hall of Fame career. It's hard to be more efficient than Barkley was in this game, going 16-for-22 from the field and a perfect 11-for-11 from the foul line while committing just three turnovers and sitting for only one minute the entire night. — Tim Bontemps
2. Dirk Nowitzki, Dallas Mavericks | 46.5
2011 West finals: Game 1 vs. Oklahoma City Thunder
NBA on ESPN+
Get access to exclusive original series, premium articles from our NBA insiders, the full 30 for 30 library and more. Sign up now to unlock everything ESPN+ has to offer.
Nobody has ever scored more points on better efficiency in a playoff game than this masterpiece by Dirk Nowitzki during the Mavericks' 2011 title run. He opened the Western Conference finals by scoring 48 points on 12-of-15 shooting from the floor and 24-of-24 from the line. "I thought we defended him as close as we can — obviously, too close," former Thunder coach Scott Brooks said. The Mavs had nine days off after sweeping the Lakers in the second round. Nowitzki used that time to hone his game, getting in several late-night shooting sessions with his longtime mentor, Holger Geschwindner. Nowitzki was so sharp that he made Kevin Durant's first 40-point playoff performance a mere footnote, setting the tone as Dallas dismissed Oklahoma City in five games. — Tim MacMahon
Butler scored 27 of his 41 points in the second half of the Heat's Game 1 win vs. Celtics. Megan Briggs/Getty Images
3. Jimmy Butler, Heat | 45.9
2022 East finals: Game 6 at Boston Celtics
With the season on the line and the Heat trailing 3-2 in the series, Butler stepped up in one of the best performances of his career. Butler finished with a career playoff high of 47 points (only to surpass it this postseason with 56 in Game 4 of the Heat's first-round series against the Bucks) and added nine assists, eight rebounds and four steals in Boston to force a Game 7. — Andrew Lopez
4. Terry Porter, Portland Trail Blazers | 45.1
1992 West finals: Game 2 vs. Utah Jazz
Top stories of the week from
Get exclusive access to thousands of premium articles a year from top writers.
• The year of the terrible baseball teams »
• Ranking the 100 best NFL draft picks »
• The ultimate football recruit rankings »
More ESPN+ content »
Because of teammate Clyde Drexler (the runner-up in MVP voting) and other star point guards in the West (including opposing number John Stockton), Porter was often overlooked, but not on this night. Porter was nearly perfect from the field, making 12 of 14 shots (with four 3s, as many as the Jazz made) and 13 of 14 free throws to score 41 points. That remains the fewest shot attempts ever in a 40-point playoff game in any round. Porter added seven assists and six boards with just one turnover as the Blazers cruised at home. — Pelton
5. Charles Barkley, Suns | 45.0
1993 West finals: Game 7 vs. Seattle SuperSonics
With Phoenix's season on the line, Sir Charles delivered an iconic performance, pouring in 44 points to go along with 24 rebounds to lift the Suns to a 123-110 victory over the SuperSonics. What stood out about this game was the sheer number of free throws attempted: 100 overall, including 64 by the Suns. Phoenix had a 57-28 edge in made freebies in the game, with Barkley going 19-for-22 from the stripe to set up an NBA Finals showdown with Michael Jordan and the eventual champion Chicago Bulls. — Bontemps
LeBron James scored 49 in the series opener of the 2009 Eastern Conference finals. AP Photo/Pool, Jeff Haynes
6. LeBron James, Cleveland Cavaliers | 44.7
2009 East finals: Game 1 vs. Orlando Magic
More Than An Athlete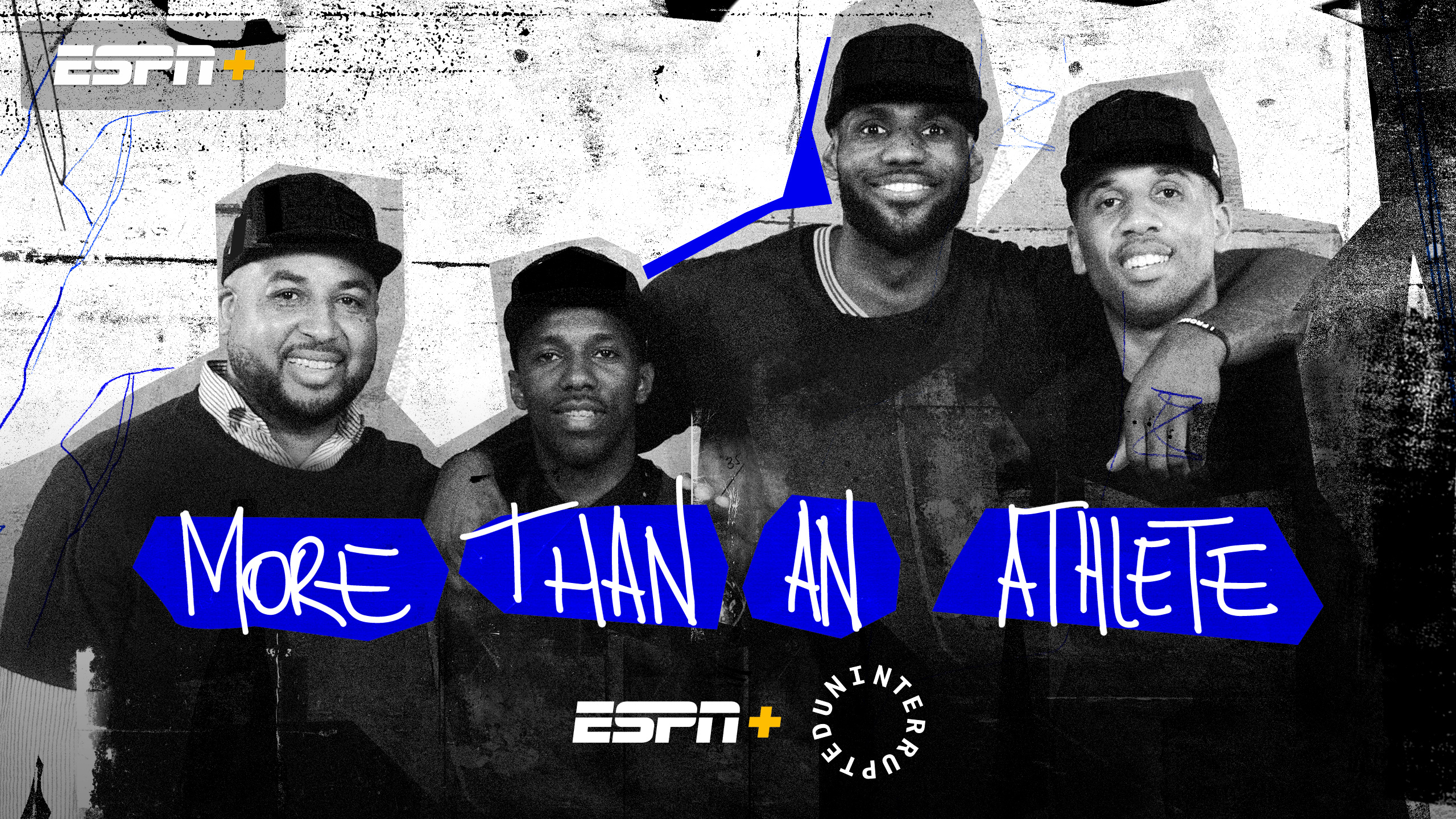 The eight-part docuseries, produced by UNINTERRUPTED and airing on ESPN+, will follow LeBron James and Maverick Carter's improbable journey from Akron to the global stage. Watch on ESPN+
This remains LeBron's best playoff performance, according to game score. James' 49 points was a playoff career high (not surpassed until 2018) and his third-highest total in a conference finals game. LeBron needed just 30 shots and 10 free throws, shooting 67% from the field and handing out eight assists with three steals and two blocks. Yet after Orlando coach Stan Van Gundy told his players at halftime, "We're all witnesses," referencing James' Nike campaign, the Magic rallied to win by one on a late Rashard Lewis 3-pointer. That was emblematic of a series Orlando won 4-2 despite LeBron's heroics throughout. — Pelton
7. Jimmy Butler, Heat | 43.2
2022 East finals: Game 1 vs. Celtics
In Game 1 of the 2022 conference finals, Butler carried the Heat to a 118-107 victory that set the tone for the remainder of the series. Butler had 41 points and nine rebounds, was 17-of-18 from the free throw line and also picked up four blocks and three steals. At the time, it was Butler's second-highest-scoring playoff game. Now it's his fifth. — Lopez
8. Michael Jordan, Bulls | 42.8
1989 East finals: Game 3 vs. Detroit Pistons
Despite trailing by 14 with just over seven minutes to play, Jordan willed the Bulls to a 99-97 victory over the Detroit Pistons with an epic performance down the stretch, finishing with 46 points, seven rebounds, five assists and five steals. The "Bad Boy" Pistons got the better of Jordan by the end of the series, but this performance highlighted how much of a problem he was to guard, even for Detroit. Jordan scored 10 of 17 fourth-quarter points during a three-minute span down the stretch, soaring over two defenders, including Dennis Rodman, to hit the game winner. — Jamal Collier
Nowitzki scored 50 points to carry the Mavericks to a 117-101 victory and 3-2 lead over the Suns in the Western Conference finals. Photo by John W. McDonough/Sports Illustrated via Getty Images
9. Dirk Nowitzki, Mavericks | 42.3
2006 West finals: Game 5 vs. Suns
Nowitzki's scoring flurry in the fourth quarter allowed him to finish with the only 50-point playoff performance of his career and put the Mavericks a win away from advancing to the franchise's first NBA Finals. Nowitzki outscored the Suns by a 22-20 margin in the final quarter, which featured a run in which he put up 15 straight points for the Mavs. Phoenix forward Shawn Marion, an outstanding defender who helped Dallas win the title five years later, was helpless against the sweet-shooting 7-footer. This gem came immediately after a Dirk dud, as he had only 11 points on 3-of-11 shooting in the Mavs' Game 4 loss. "The last game, I never really found my rhythm," said Nowitzki, who was 14-of-26 from the floor and also grabbed 12 rebounds in the Game 5 win. "Today, I just wanted to be aggressive, no matter what happens." — MacMahon
10. Michael Jordan, Bulls | 41.3
1993 East finals: Game 4 vs. New York Knicks
ESPN's NBA Basketball Power Index
Who is No. 1 in the latest NBA Basketball Power Index? Go to Ratings
The Bulls' first three-peat was in jeopardy after Chicago dropped the first two games of the conference finals on the road against the Knicks and with Michael Jordan struggling to start the series. New York's unrelenting defense had held Jordan to 32.5% shooting in the first three games, but Jordan responded with what has become one of his more underrated clutch playoff performances: a 54-point game on 18-of-30 (60%) shooting against the best defense in the NBA to even the series at 2-2. — Collier
11. James Harden, 2015 Houston Rockets (41.0 game score)
12. Rajon Rondo, 2012 Celtics (41.0)
13. Chris Paul, 2021 Suns (39.6)
14. LeBron James, 2018 Cavaliers (38.8)
15. James Harden, 2015 Rockets (38.7)
16. Hakeem Olajuwon, 1994 Rockets (38.6)
17. LeBron James, 2007 Cavaliers (38.1)
18. Russell Westbrook, 2014 Thunder (38.0)
19. Luka Doncic, 2022 Mavericks (37.5)
20. Paul George, 2021 LA Clippers (37.3)
21. LeBron James, 2020 Lakers (37.3)
22. Tim Duncan, 2003 San Antonio Spurs (37.1)
23. Michael Jordan, 1998 Bulls (37.1)
24. Kareem Abdul-Jabbar, 1980 Lakers (36.8)
25. Stephen Curry, 2015 Golden State Warriors (36.6)
Source: espn.com